Another good weekend for the Lancers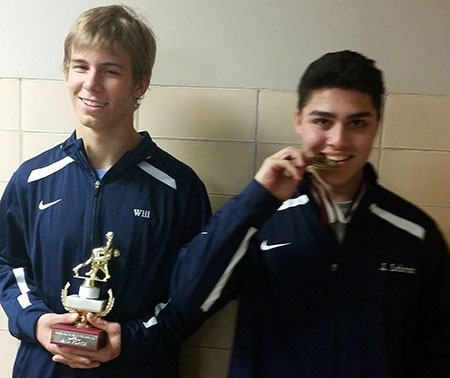 The St. Mary's Wrestling Team had a very successful December 9 & 10.
On Friday, SMH Wrestling took down GOW in their dual meet, 42-39. (It has been 1,046 days since the last dual victory, but who's counting?)
On Saturday, at the Orchard Park Tournament, Will Story took Second Place at 145 Varsity with a record of 2-1. Joe Lebron went 4-0 to win 182 JV.
The rest of the team wrestled quite well but did not medal. Josh Weiss and Ethan Craddock both went 3-1, Austin Walsh was 2-1 in JV, and Jake Fay was 2-2 in Varsity.
Doing well at Maple Grove Tourney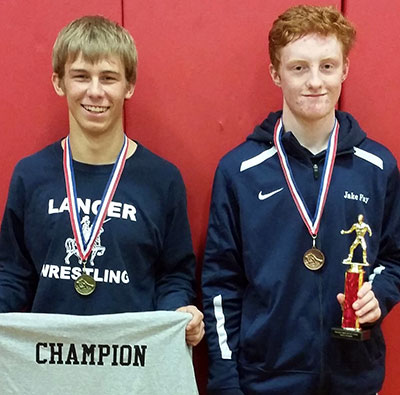 The wrestling team began the season by participating in the Maple Grove Tourney.
Senior Will Story took first place in 145 -- he also took first place last year in the tournament.
Junior Jacob Fay took fourth place in his class, but he did earn Fastest Pin Trophy for pinning an opponent from Salamanca in 11 seconds!
Schedule
| | | | | |
| --- | --- | --- | --- | --- |
| Date | Start Time | Opponent | Location | V/JV |
| Sat, Dec. 3 | 9 a.m. | Maple Grove Kickoff Invitational | Maple Grove | Varsity |
| Tues, Dec. 6 | 6 p.m. | St. Joe's | St. Joe's | V/JV |
| Fri, Dec. 9 | 6 p.m. | Gow |  Gow | V/JV |
| Sat, Dec. 10 | 9 a.m. | Orchard Park Invitational | Orchard Park | V/JV |
| Tues, Dec. 13 | 6 p.m. | Wilson | St. Mary's | V/JV |
| Sat, Dec. 17 | 9 a.m. | North Tonawanda JV Tournament | North Tonawanda | JV |
| Wed, Dec. 28 | 9 a.m. | 49th Akron Holiday Invitational | Akron | JV |
| Thur, Dec. 29 | 9 a.m. | 49th Akron Holiday Invitational | Akron | Varsity |
| Thur, Jan. 5 | 6 p.m. | St. Francis | St. Mary's | V/JV |
| Sat, Jan. 7 | 9 a.m. | Alexander Invitational  | Alexander  | Varsity |
| Fri, Jan. 13 | 3 p.m. | Lockport Invitational | Lockport | V/JV |
| Sat, Jan. 14 | 9 a.m. | Lockport Invitational | Lockport  | V/JV |
| Thur, Jan. 19 | 6 p.m. | Gow | St. Mary's | V/JV |
| Sat, Jan. 21 | 9 a.m. | Catt. Little Valley Round Robin | Catt. Little Valley | Varsity |
| Thur, Jan. 26 | 6 p.m. | Canisius | Canisius | V/JV |
| Sat, Jan. 28 | TBA | TBA | TBA | Varsity |
| Sun, Feb. 5 | 9 a.m. | All-Catholics | Canisius | V/JV |
| Sat, Feb. 11 | 9 a.m. | CHSAA Tourney | St. Francis | V/JV |
| Sun, Feb. 12 | 9 a.m. | CHSAA Tourney | St. Francis | V/JV |
Roster
| | |
| --- | --- |
| Name | Grade |
| Matt Ash | 9 |
| Ethan Craddock | 10 |
| Tyler Cruz | 9 |
| Jake Fay | 11 |
| Parker Fay | 10 |
| Joe Flading | 11 |
| Joe Lebron | 10 |
| Will Story | 12 |
| Austin Walsh | 10 |
| Josh Weiss | 10 |