SMH Baseball Players Recognized for Remarkable Season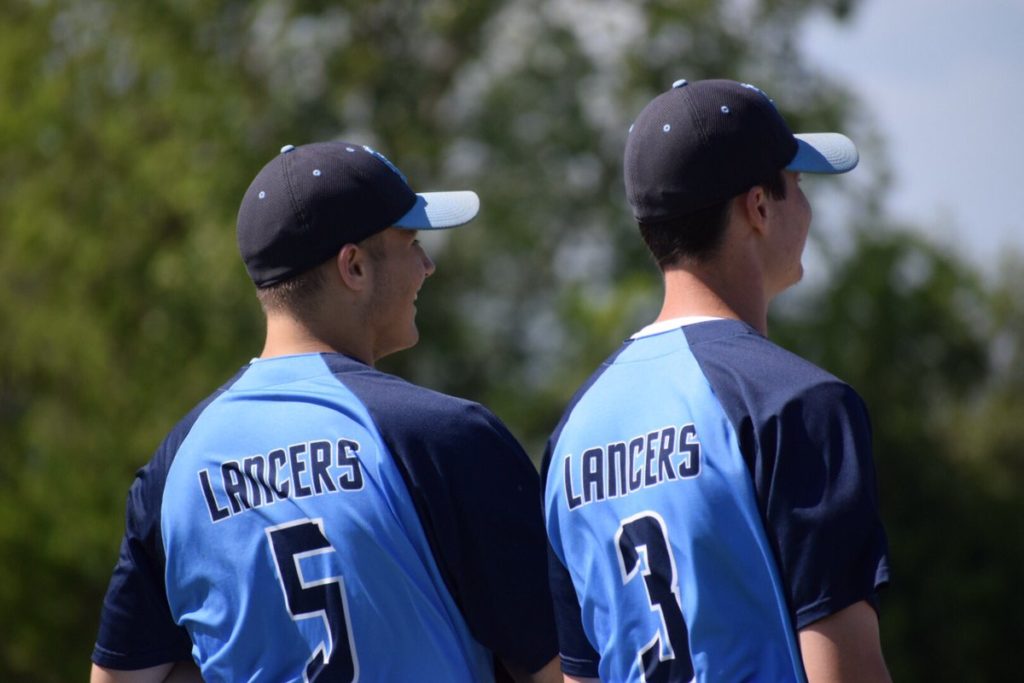 Alex Bish '17 was named league Pitcher of the Year, and Joe Barberio '17 was named league Defensive Player of the Year!
Zach Penksa '17 made First Team All-Catholic, while Christian Szablewski '18 and Cole Laskowski '19 made Second Team All-Catholic.
What a great season, boys!
Erin DiPirro '18 Named to First Team All-Catholic Lacrosse 
The accolades keep on coming for St. Mary's Spring sports.  Junior Erin DiPirro made First Team-All Catholic Lacrosse after a stellar season for the Lancers.  
Way to go, Erin!
St. Mary's Receives Three Buffalo News Prep Talk Award Nominations
St. Mary's received THREE nominations for The Buffalo News Prep Talk Awards on June 14, 2017.  The Women's Volleyball Team was nominated for Team of the Year, Women's Volleyball Head Coach Don Pieczynski for Coach of the Year, and the entire St. Mary's Athletic Department, including all of our teams, for Program of the Year! Our Lancers are remarkable!
The Prep Talk Awards took place at the Hyatt Regency Hotel in Downtown Buffalo, where the volleyball team and Coach Pieczynski were in attendance along with St. Mary's Athletic Director Brittany Heist.  
Take a look at the article from The Buffalo News for all of the details: http://bit.ly/2ss3Qsj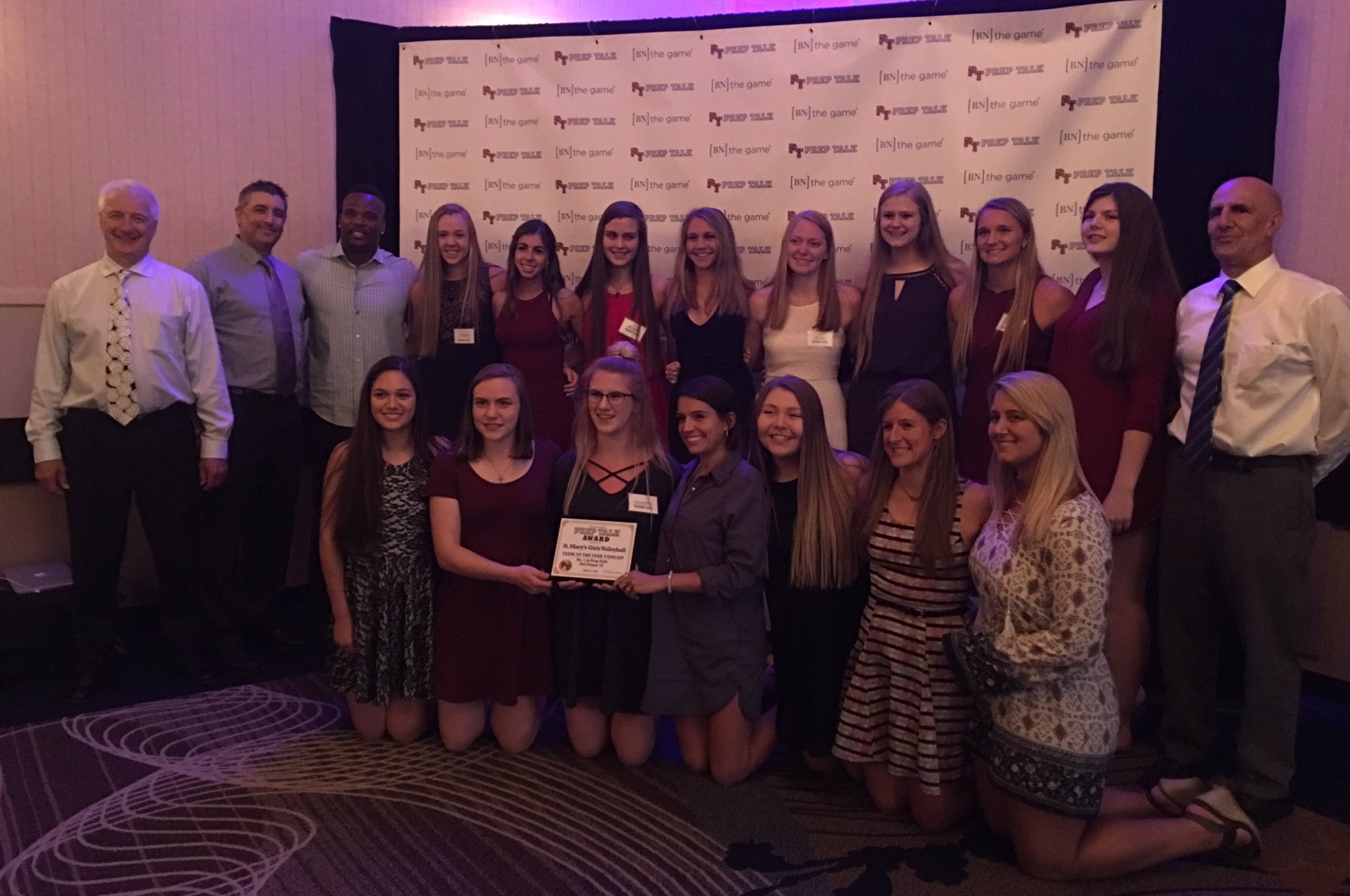 Sports Information Night Set for 

July 20th at 6:00pm
Any students interested in playing a Fall sport should attend, along with their families, Sports Information Night on Thursday, July 20th at 6:00pm.  The night will take place right at St. Mary's and will provide helpful information on the different paperwork needed to participate in sports along with other pertinent information.
Interval Health History Form Return Dates
Students will need to bring in their Interval Health History Forms on any of the dates listed below.  These forms will be mailed home in the first week of July.  When these forms are returned on one of the following dates, students will then be able to collect their Athletic Card for their Fall sport.  If the Interval Health History Form and Physical are not turned in or up to date, students cannot get an Athletic Card, which is their tryout ticket for the sport. 
Monday, July 31st
9-11 am
Tuesday, August 1st
4-6 pm
Wednesday, August 2nd
4-6 pm
Thursday, August 3rd
9-11 am
Monday August 14th
8-10 am
Thursday, August 17th
9-11 am
Women's Varsity Volleyball Team Receives Butler Mitchell Alumni Association's Athletic Excellence Award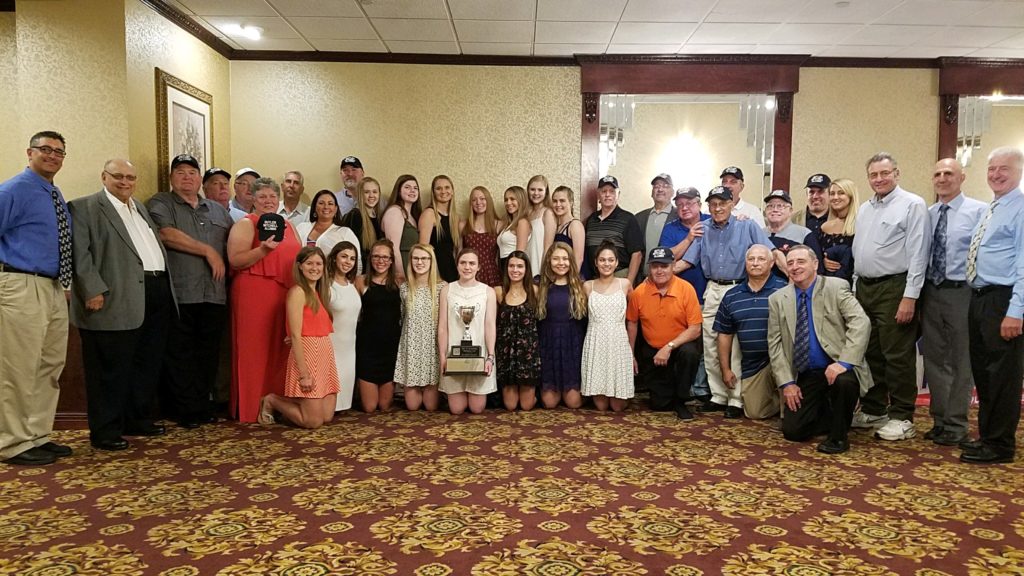 Women's Varsity Volleyball Team and coaching staff with Butler Mitchell Alumni Association members
St. Mary's Women's Varsity Volleyball can add another award to the trophy case. The Butler Mitchel Alumni Association named the Lancers as the recipient of their Athletic Excellence Award.
In 2016, St. Mary's went undefeated in New York State, adding its 15th state championship to its growing legacy and its 6th Monsignor Martin League title in a row. When you couple this dominance on the court with a high standard for academic excellence in the classroom, you have the perfect ingredients for a Butler Mitchell Alumni Association honoree: "There were several schools we considered for this award," said Joe LoTempio of the Butler Mitchell Alumni Association. "But when you look at St. Mary's and their history of dominance in girls volleyball, the choice was clear."
The Lancers received the award at a ceremony over brunch. St. Mary's Head Volleyball Coach, Don Pieczynski, knows that moments like these are special and will cherish the ceremony with his team: "To be recognized by such an incredible organization, like the Butler Mitchell Alumni Association, is such an honor," he said. "Our season ended a few months ago, so to get the team back together to celebrate their accomplishments and for one last 'hurrah,' makes it even more special."
With over 50 years of history serving Western New York's youth through charitable educational and recreational events, the Butler Mitchell Alumni Association has become a beacon for good works in the community.
Lancers Baseball Reaches Georgetown Cup Finals
A crowd of nearly 500 came to St. Mary's High School's home field for the final and decisive Game 3 of the Georgetown Cup Championship Series between St. Mary's and St. Joseph's Collegiate Institute.  Games 1 and 2 were played at Coca-Cola Field, home of the Buffalo Bisons, but a rained-out Game 2 pushed the final game into a scheduling conflict, so the teams battled at St. Mary's home field.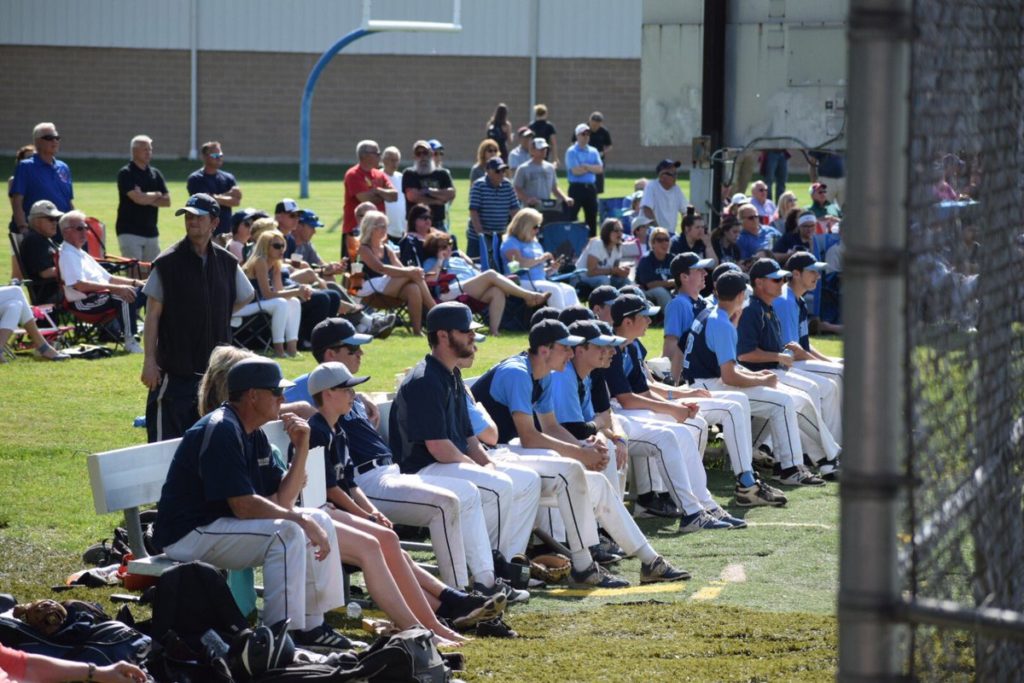 The Lancers held a 1-0 lead after five innings, but St. Joe's brought out the bats in the top of the sixth, scoring six in the frame, to secure the championship.  
After such an exciting series and a remarkable season, Lancers Baseball will look to return to the top of the field next year and work their way back to the championship series.
Cheerleading Names Its New Coach
Cristina Fudoli, a Class of 2006 graduate, returns to her old stomping grounds to lead St. Mary's Cheerleading into a new era.
With over 10 years of coaching and competition experience in the towns of Lancaster and Orchard Park, Fudoli brings a wealth of experience and success to build the program into a real powerhouse.
Lancers Softball Wins Monsignor Martin League Championship and Names an MVP and All-Catholic Members
The Lady Lancer Softball Team defeated Mount Mercy Academy 14-7 to win the Monsignor Martin Championship at Sunshine Park in West Seneca.
The Lancers erased a one-run deficit in the third inning, plating four runs in the frame, and then really laid it on think with a nine-run seventh inning.  Every player, from the top to the bottom of the order, contributed immensely to the team's win.
The championship is St. Mary's second in the past three years.
You can read about the championship game in The Buffalo News here.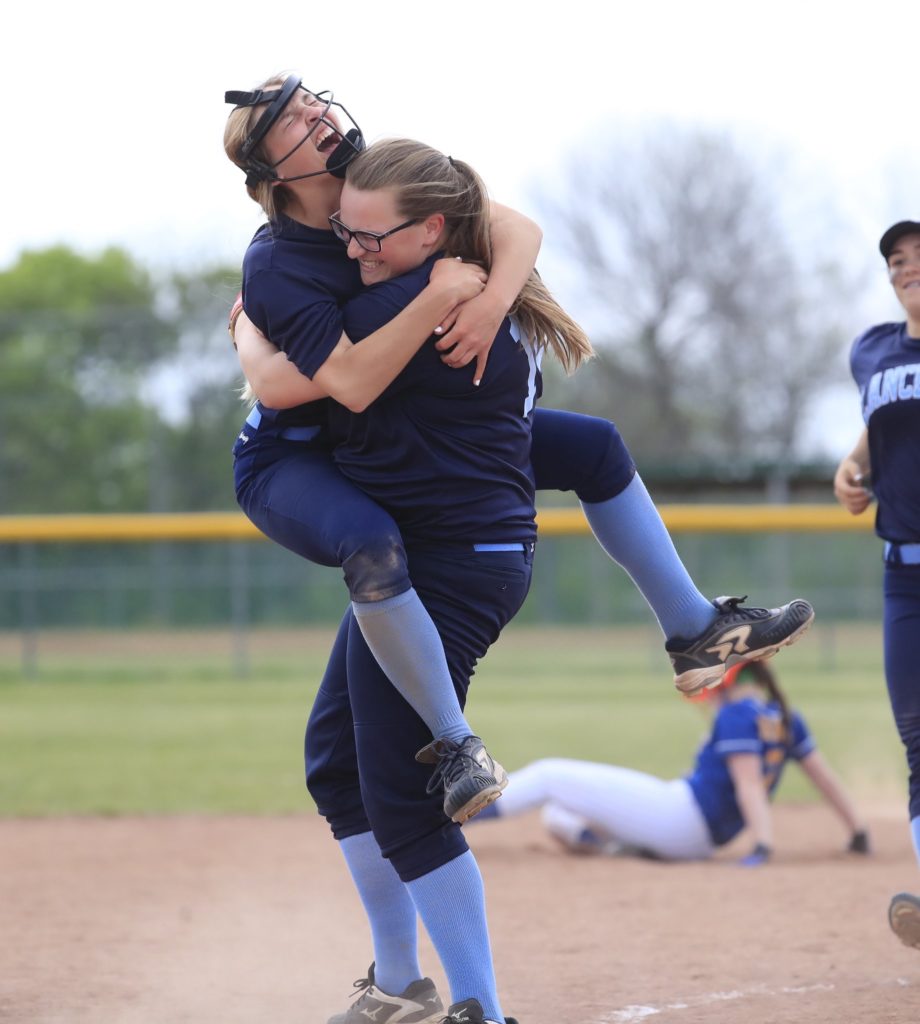 To add to the celebration, Senior Erin Hufford earned the league's Player of the Year honor and Junior Mackenzie Suto along with Freshman Maggie Kellner were named First Team All-Catholic.
You can see the full First and Second Team All-Catholic rosters here.
Nine Lancers Qualify for State Championships in Track and Field
Nine student athletes will make the trip to New York City this Memorial Day weekend to represent St. Mary's in the Track and Field State Championships. 
Congratulations to:
Kayla Bestpitch '20
Bridget Vogl '19
Libby Benzer '18
Haley Wipperman '17
Kayla Leo '17
Kathryn Vogl '17
Erin Hufford '17
Daquan Hunt '17
Best of luck Lancers!
Honoring the Seniors- Spring Sports Edition
The Women's Lacrosse Team will honor their seniors when they face off against Lewport for their Senior Game on Friday, May 19th.  Come support these hard-working ladies at Westwood Field!
The seniors on the lacrosse team are: Kaitlyn Kowalewski, Campbell Amatura, Courtney Kline, Sydney Zajac, and Grace Fuller.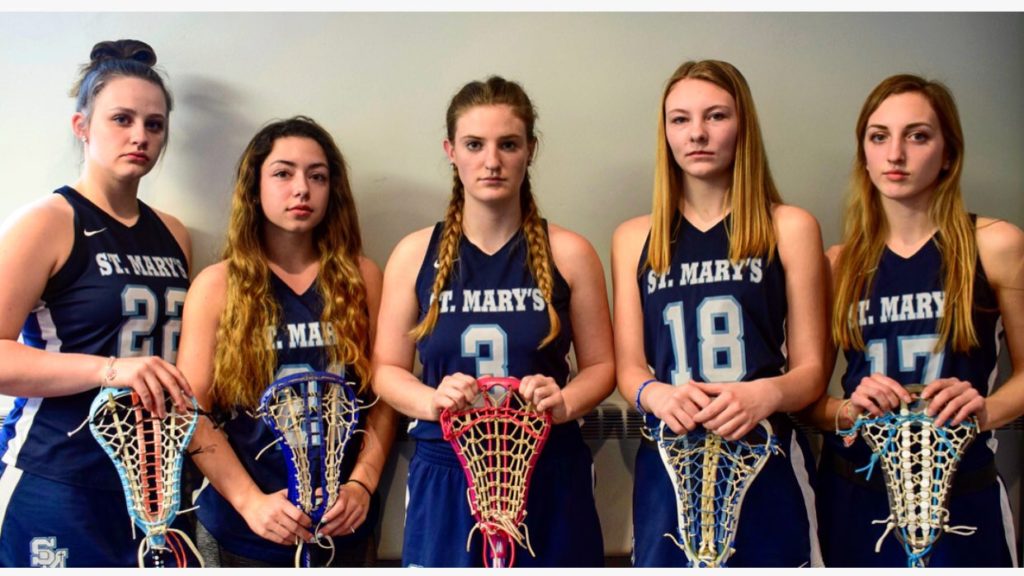 The St. Mary's Softball Team would also like to congratulate their three Seniors on remarkable careers.  The Softball team will honor these ladies at their final home game on Wednesday, May 17th at Walden Ponds when they clash with CCA.
The seniors pictured below are: Erin Hufford, Haley Wipperman, and Victoria Jankowski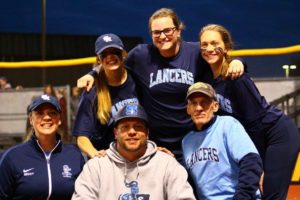 Sign-Up for a Spring Sport Physical - Deadline: February 28
In order to play a Spring sport, each student-athlete needs to turn in an Interval Health History (IHH) form located in the main office, the athletic office, or the health office.  As well as the IHH, the student needs to have an up to date physical on file.  If you wish to have a physical completed by the school physician, they will be at SMHS on March 15, 2017.  You MUST sign up with Mrs. Martin in the Health Office by February 28th. Parents may call 683-4824 x 220.
Hannah Pufpaff headed to Gannon University 
Congratulations to Senior Hannah Pufpaff who will be continuing her soccer career down the I-90, in Erie, to play her collegiate years at Gannon University.  She plans to study Physical Therapy as she becomes yet another St. Mary's student-athlete pursuing both an education and athletics in college. 
Spring Sport Sign-Ups and Start Date - Monday, March 6th
Spring Sports start Monday, March 6th.  Please stop in to the athletic office to sign up and get information on tryout times and locations.  Go Lancers!  Spring Student-Athletes will need to complete a Interval Health History, have an updated physical, and receive their Player Card before they are allowed to tryout.
Winter Banquet Date Announced - Wednesday, March 15th 6:00pm
The Winter Sports Banquet will be held, Wednesday, March 15th, at 6pm at St. Mary's High School.  All winter Student-Athletes are encouraged to attend with family members.  Please contact the athletic office for more information!
Fall Sports Banquet
Congratulations to the following Student-Athletes who were honored at the Fall Sports Banquet, held on November 16 at St. Mary's High School:
FOOTBALL:
Offensive Player of the Year - Derek Johnson
Defensive Player of the Year - James Miller
Lancer Award  - CJ Ozolins
MEN'S VOLLEYBALL:
Best Offensive Player: Christian Szablewski
Best Defensive Player: Patrick Basil
Team MVP: Eric Brown
WOMEN'S VOLLEYBALL:
MVP: Caitlyn Meyer
Most Improved: Jillian Vitale
Most Versatile: Summer Slade
WOMEN'S JV VOLLEYBALL:
Most Improved: Marie Rhodes
Co MVP: Maddison Nuttle, Jasmine Brundage
MEN'S SOCCER:
Most Offensive: Nate Waley
Most Defensive: Dan Cress
MVP: Nino Marino
MEN'S JV SOCCER: 
Defensive Player of the Year: Sam Mickel
Offensive Player of the Year: Jake Ciansiosa
MVP: Brendan Murty
WOMEN'S SOCCER: 
MVP: Courtney Kline
Lancer Award: Grace Fuller
Best Teammate: Nicole Kruse
XC: 
MVP: Libby Benzer
MIP: Maddie Benzer
Dedication and Commitment Award: Kayla Leo
GOLF:
MVP: Brady O'Brien
Coach's Award: Alex Bellet
Most Improved Golfer: Julia Hartloff
Winter Sports Start Date - November 7th
Student-Athlete and Parents
- Please make note that winter sports start date is
Monday, Nov. 7th
. 
All Interval Health History forms and physicals must be in and up to date before student can participate.  Please see the school nurse or Athletic Director if you are unsure about either. 
The sports offered for this winter include Men's and Women's Basketball, Men's and Women's Bowling, and Wrestling.
Women's Basketball
tryouts for Varsity, JV, and JV B will start
Monday, November 7th
-
2:30-5 p.m.
Men's Basketball
tryouts for Varsity, JV, and Freshmen will start
Monday, November 7th
-
5-7 p.m.
All basketball tryouts will be held in the gym.  This tryout time will be consistent to practice times as well throughout the course of the season.
Fall Sports Banquet - Wednesday, Nov. 16
Attention all Fall Sports Players and Families:
A mailer/newsletter has been sent home in early October with information regarding our Fall Sports Banquet.  The Athletic Office is collecting the RSVPs, so please make sure you send yours in!  No tickets will be sold at the door.  The banquet is held at school and will be catered by Frank's Grille.  Please contact the Athletic Office with any questions.
Honoring the Seniors
Prior to their match with Sacred Heart Academy, the Women's Varsity Volleyball Team honored the senior members of their team - Gina Appenheimer, Victoria Jankowski, Caitlyn Meyer, and Kathryn Vogl.
Congratulations, Ladies & Families!
Women's Soccer would like to congratulate and wish the best of luck to the fours seniors that have helped anchor the team this season.  The team celebrated Senior Day with a 2-0 win over Christian Central Academy.  The women's soccer seniors are: Kristi Smith, Courtney Kline, Marissa Loniewski, and Grace Fuller.