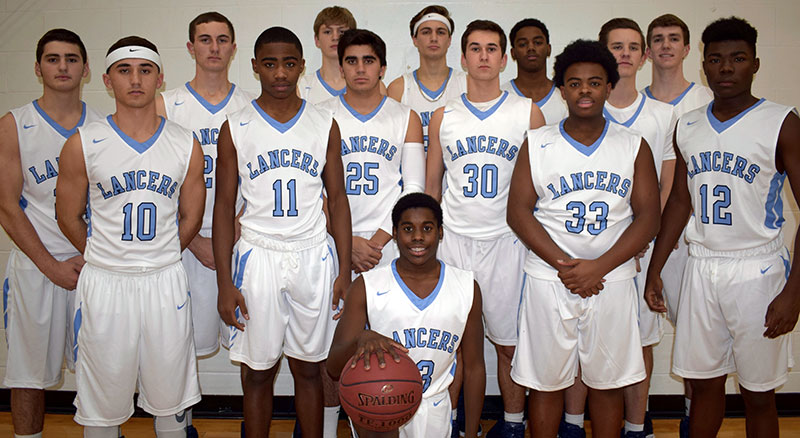 Lancers advance to Class B Manhattan Cup Final, defeat Walsh 62-46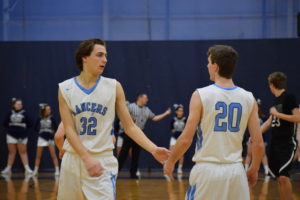 The men's basketball team has made it to the first ever Manhattan Cup final in the history of their program.  After downing Walsh in the semi-final led behind juniors Christian Szablewski and Matt Ciezki, and senior Daquan Hunt, the boys face off vs Nichols, Wednesday, March 1st at 6:05pm at Canisius College.  Come out and support your Lancers!
Senior Night Success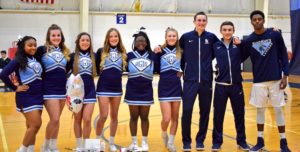 The varsity men's basketball team defeated Walsh, 77-51 as they celebrated their three seniors: Zach Penksa, Daquan Hunt, and Collin Tytka.  Joining the three basketball players were our six senior cheerleaders:  Campbell Amatura, Amaya Devers, Asia Alexander, Sydney Zajac, Erin Hufford, and Allie Deguire.  Thank you for all you have done these past four years as Lancers and best of luck in the future! 
Senior Night: February 14th vs Walsh, 6:30pm

Please come out and show your support as our three seniors will be honored prior to game for their dedication and involvement in the basketball program.  Game starts at 6:30pm.  Our seniors to be honored, include: Daquan Hunt, Zach Penksa, and Collin Tytka.
St. Mary's defeat hometown rival Lancaster, 61-60
St. Mary's men's varsity basketball defeats Lancaster this past Saturday in a thrilling fashion.  Junior Eric Brown hit a 3-pointer in the final seven seconds to lift the Lancers over the Legends.  It was a great atmosphere as it was standing room only.  Leading the team to victory with game-highs were juniors Eric Brown and Christian Szablewski, both with 17 points, and junior Matt Ciezki tallying 16 points.  Our fan support and student section who themed the game "Red, White, and Blue" were outstanding, with students storming the court after the final seconds theatrics.  They head to Canisius, Wednesday, Jan 25th, in a triple header against MMA opponent and are back home on Friday, Jan 27th vs Cardinal O'Hara. 
Lancers open season with win over Fredonia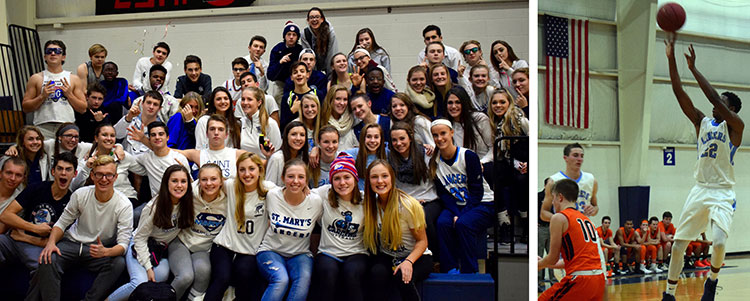 Men's basketball walked away from its home opener with a win over Fredonia.  The Lancers trailed by one at half but had a surge of scoring in the third quarter which secured a nice 10-pt lead throughout the remaining portion of the game.  Senior Daquan Hunt added some flare to the court as he dunked two crowd-roaring baskets. The student fan section really helped the Lancer atmosphere as they came decked out in white for the themed "White Out" game.
2016-17 Schedule
Varsity and Junior Varsity
Date
Start Time
Opponent
Location
Tues, Dec. 6
6/7:30pm
Fredonia
HOME
Fri, Dec. 16
6:30pm
West Seneca East
AWAY @ Depew HS – ECIC Challenge
Wed, Dec. 21
6pm
City Honors
AWAY (Depew Tournament) VARSITY ONLY
Thurs, Dec. 22
6pm
City Honors
AWAY (Depew Tournament) JV ONLY
Friday, Dec. 23
JV - 2:30 or 4pm
Varsity - 5:30 or 7pm
Consolation or Championship Game
AWAY (Depew Tournament)
Tues, Dec. 27
JV - 11am
Varsity - 6pm
JV vs. Will North
Varsity vs. Will East
AWAY – Five Guys Tournament
Varsity @ Will North
JV @ Will East
Wed, Dec. 28
JV - 11am or 12:30pm
Varsity - 6 or 7:30pm
Consolation or Championship Game
AWAY – Five Guys Tournament
Varsity @ Will North
JV @ Will East
Thurs, Dec. 29
TBA
TBA
AWAY – Five Guys Tournament
Tues, Jan. 3
6/7:30pm
Niagara Catholic
HOME
Wed, Jan. 4
6pm
West Seneca East
AWAY – JV ONLY
Fri, Jan. 6
5/6:30pm
Cardinal O'Hara
AWAY
Sun, Jan. 8
1pm
Walsh
AWAY – VARSITY ONLY
Tues, Jan. 10
6pm
Amherst
HOME – JV ONLY
Fri, Jan. 13
4:30/7:30pm
Nichols
AWAY
Tues, Jan. 17
4:30/6/7:30pm
St. Joe's
HOME
Thurs, Jan. 19
5/6:30pm
CCA
AWAY
Sat, Jan. 21
12:30pm/2pm
Lancaster
HOME
Wed, Jan. 25
4/5:30/7pm
Canisius
AWAY
Fri, Jan. 27
6/7:30pm
O'Hara
HOME
Mon, Jan. 30
4:30/6/7:30pm
Timon
HOME
Wed, Feb. 1
5/6:30pm
Park
AWAY
Mon, Feb. 6
6/7:30pm
CCA
HOME
Thurs, Feb. 9
5:30/7pm
Starpoint
AWAY
Fri, Feb. 10
6/7:30pm
NC
AWAY
Tues, Feb. 14
6:30pm
Walsh (Senior Night)
HOME – VARSITY ONLY
Thurs, Feb. 16
6/7:30pm
Nichols
HOME
Fri, Feb. 17
6/7:30pm
North Tonawanda
HOME
Tues, Feb. 21
4/5:30/7pm
St. Francis
AWAY
Freshmen
| | | | |
| --- | --- | --- | --- |
| Date | Start Time | Opponent | Location |
| Thurs, Dec 8 | 5pm | Lockport | HOME |
| Tues, Dec 13 | 6pm | Clarence | AWAY |
| Thurs, Dec 15 | 6:30pm | Jamestown | AWAY |
| Thurs, Dec 22 | 4pm | Lancaster | HOME |
| Friday, Dec 23 | 4pm | Canisius | HOME |
| Wed, Jan 4 | 5:30pm | St. Francis | HOME |
| Fri, Jan 6 | 5pm | Notre Dame | HOME |
| Fri, Jan 13 | 5pm | Lancaster | AWAY |
| Tues, Jan 17 | 4:30pm | St. Joes | HOME |
| Thurs, Jan 19 | 5pm | Lockport | AWAY |
| Wed, Jan 25 | 4pm | Canisius | AWAY |
| Mon, Jan 30 | 4:30pm | Bishop Timon St. Jude | HOME |
| Tues, Feb 7 | 6:30pm | Jamestown | HOME |
| Thurs, Feb 9 | 6pm | Clarence | HOME |
| Wed, Feb 15 | 4pm | St. Joe's | AWAY |
| Tues, Feb 21 | 4pm | St. Francis | AWAY |
Rosters
Varsity
| | | |
| --- | --- | --- |
| No | Name | Yr |
| 10 | Zach Penksa | 12 |
| 11 | Jaelin Russell | 11 |
| 12 | Kofi Osei | 11 |
| 13 | Ja'Shawn Collins | 11 |
| 20 | Eric Brown | 11 |
| 21 | Ben Mazurowski | 11 |
| 22 | Daquan Hunt | 12 |
| 23 | Collin Tytka | 12 |
| 24 | Brady O'Brien | 10 |
| 25 | Frank Propis | 11 |
| 30 | Matt Ciezki | 11 |
| 32 | Christian Szablewski | 11 |
| 33 | Ahmad Powell | 11 |
| 34 | Greg Poland | 9 |
Coaches - Paul Rath, Ryan Hadsall, Brad Murray
JV
| | | |
| --- | --- | --- |
| No | Name | Yr |
|   | Alif Dunbar | 10 |
|   | Eric Kegler | 9 |
|   | Anthony LaRosa | 10 |
|   | Cole Laskowski | 10 |
|   | Nicholas Levea | 10 |
|   | Santo Lima | 10 |
|   | Sean Melson | 10 |
|   | Jordan Sypniewski | 10 |
|   | Luke Szablewski | 9 |
Coaches - Nick Casillo, Ryan Gallo
Freshmen
| | | |
| --- | --- | --- |
| No | Name | Yr |
|   | Zachary Ash | 9 |
|   | Zachary Charvat | 9 |
|   | Jake Cianciosa | 9 |
|   | Justin Clanton | 9 |
|   | Peter Duane | 9 |
|   | Christian Kobis | 9 |
|   | Joseph Kupczyk | 9 |
|   | Elijah LaVarnway | 9 |
|   | Sam Mickel | 9 |
|   | Brendan Murty | 9 |
|   | Herbert Parker | 9 |
|   | David Persico | 9 |
|   | Isaac Stearns | 9 |
|   | Mike Vallone | 9 |
|   | Brendan Walsh | 9 |
Coaches - Ryan Gallo, Nick Casillo