Senior Night slated for Feb. 8th vs Niagara Catholic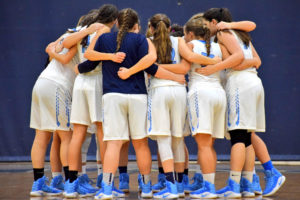 Wednesday, February 8th, St. Mary's women's basketball will be honoring their three seniors that are on the team.  Please join us for the pregame ceremony celebrating Kaitlyn Kowalewski, Haley Wipperman, and Courtney Kline. 
St. Mary's Alum honored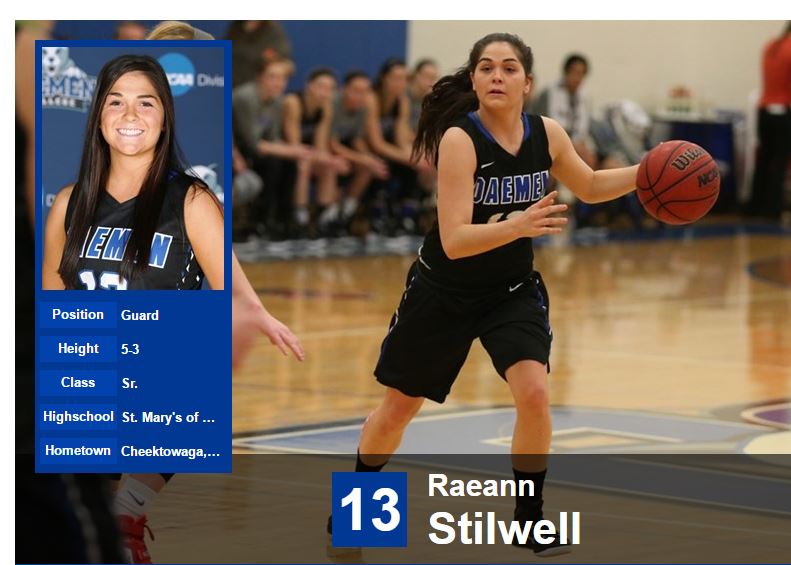 Congratulations to St. Mary's Alumna Raeann Stilwell (Class of 2012), who was recently honored by Daemen College where she played basketball for the Wildcats.  She is being honored for becoming the all-time leader in three-point field goals.
In her four years at Daemen, Raeann scored 243 three-point field goals.  She also holds the record for three-pointers made in a season (77), three-pointers attempted in a season (252), and three-pointers attempted in a career (780).  Her 1,340 points rank her ninth all-time at Daemen.
A Perfect Start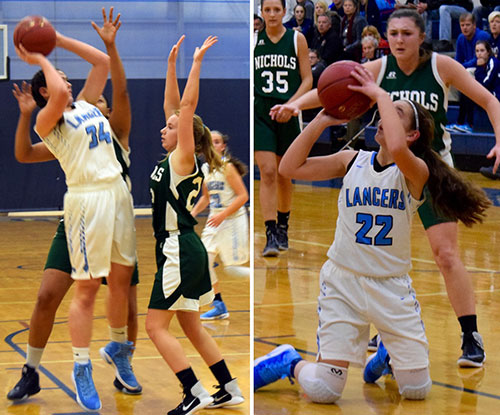 Both Women's JV and Varsity basketball teams have had a perfect start to the season holding a record of 5-0.  The home opener vs. Nichols was a success with JV outscoring Nichols, 63-20, and Varsity with a 30 point difference over Nichols, 56-26.  Caroline Zanghi led the way for the Lady Lancers with 19 points. and Catie Bish added 14 points.
Varsity & JV teams win Maryvale Tourney

Both women's JV and Varsity basketball teams moved to 4-0 on the season and added a second Tournament Championship on the season as they win the 5th Annual Peter Odrobina Memorial Tournament held at Maryvale High School.
The varsity squad defeated Lew-Port 72-28 in the finals.  Freshman Lauren Nawojski made All-Tournament Team, Sophomore Caroline Zanghi was named Tournament MVP, and Senior Courtney Kline won a $250 college scholarship for her play.
The women's team open up with their home opener, Wednesday, Dec 7th, with a JV start time of 5:30, Varsity start at 7:00pm vs Nichols.
Lady Lancers take Alden Tournament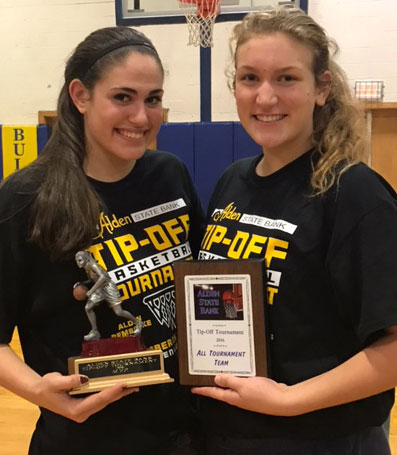 The women's varsity basketball team opened their 2016-17 season by winning the Alden Tournament over Thanksgiving weekend.
They started the tournament by defeating Pembroke 62-16. In the Championship Game, the Lady Lancers beat Alden 69-22
Caroline Zanghi (left) was named tournament MVP and Lauren Najowski (right) was named to the All-Tournament Team.
2016-17 Schedule
Varsity & Junior Varsity A
| | | | |
| --- | --- | --- | --- |
| Date | Start Time | Opponent | Location |
| Fri, 11/18 | 5:00-7:00pm | Niagara Falls (Scrimmage) | HOME |
| Fri, 11/25 | 1:00pm | JV – Pembroke (away) | Alden Tournament |
| Fri, 11/25 | 5:00pm | V – Pembroke (away) | Alden Tournament |
| Sat, 11/26 | 12:00/1:30pm | JV | Alden Tournament |
| Sat, 11/26 | 3:00/4:30pm | V | Alden Tournament |
| Thurs, 12/1 | 6pm | Maryvale – JV ONLY | Maryvale Tournament |
| Fri, 12/2 | 6pm | Maryvale – VARSITY ONLY | Maryvale Tournament |
| Sat, 12/3 | V - 3:30/5pm   JV – 12/1:30pm | TBA | Maryvale Tournament |
| Wed, 12/7 | 5:30/7pm | Nichols (non-league) | HOME |
| Thurs, 12/15 | 5:30/7pm | Nardin (non-league) | HOME |
| Sat, 12/17 | 5:00pm | Walsh – VARSITY ONLY (non-league) | AWAY |
| Tues, 12/20 | 5:30/7pm | Holland (non-league) | HOME |
| Thurs, 12/22 | 5:30/7pm | Ken East (non-league) | HOME |
| Fri, 1/6 | 4:30/6/7:30pm | Sacred Heart | AWAY |
| Mon, 1/9 | 4:30/6pm | O'Hara | AWAY |
| Wed, 1/11 | 5:30 | Park - VARSITY ONLY | HOME |
| Mon, 1/16 | 6:00pm | Walsh – VARSITY ONLY (non-league) | HOME |
| Mon, 1/23 | 5:30/7pm | Mount St. Mary's | HOME |
| Wed, 1/25 | 5:30/7pm | Mt. Mercy | HOME |
| Fri, 1/27 | 4:30/6pm | Nichols | AWAY |
| Mon, Feb 6 | 4:30/6pm | Nardin | AWAY |
| Wed, Feb 8 | 5:30 | Niagara Catholic – SENIOR NIGHT (Varsity Only) | HOME |
| Fri, Feb 10 | 6/7:30pm | Lancaster (non-league) | AWAY |
| Mon, Feb 13 | 6:00pm | Buffalo Seminary – VARSITY ONLY | AWAY |
| Fri, Feb 17 | 4:30pm | CCA – JV ONLY | HOME |
Junior Varsity - B
| | | | |
| --- | --- | --- | --- |
| Date | Start Time | Opponent | Location |
| Wed, 12/14 | 4:30pm | Akron | AWAY |
| Fri, 12/16 | 4:30pm | CCA | HOME |
| Tues, 12/20 | 4pm | Akron | HOME |
| Wed, 12/21 | 4:30pm | CCA | HOME |
| Fri, 1/6 | 4:30pm | Sacred Heart JV B | AWAY |
| Wed, 1/11 | 5:00pm | Nardin JV B | AWAY |
| Fri, 1/13 | 4:30pm | Nichols JV | AWAY |
| Thurs, 1/18 | 5:00pm | Sacred Heart JV B | HOME |
| Tues, 1/24 | 5:00pm | Nardin JV B | HOME |
| Thurs, 2/2 | 4:30pm | Mount St. Mary's | AWAY |
| Thurs, 2/16 | 4:30pm | Nichols JV | HOME |
Rosters
Varsity
| | | |
| --- | --- | --- |
| No | Name | Yr |
| 12 | Nicole Kruse | 11 |
| 13 | Libby Benzer | 11 |
| 14 | Courtney Kline | 12 |
| 22 | Caitlin Bish | 10 |
| 23 | Erin DiPirro | 11 |
| 24 | Parris Maroney | 9 |
| 30 | Casey Wiles | 11 |
| 32 | Myla Kline | 9 |
| 34 | Caroline Zanghi | 10 |
| 40 | Lauren Nawojski | 9 |
| 52 | Kaitlyn Kowalewski | 12 |
| 54 | Haley Wipperman | 12 |
Coaches - Jason Kline, Anthony Ottomano, Dave Ciezki, Andrea Drabik
Junior Varsity - A
| | | |
| --- | --- | --- |
| No | Name | Yr |
| 1 | Emily Renkas | 10 |
| 2 | Shannon Stachowski | 9 |
| 3 | Payton Stachewicz | 10 |
| 4 | Bridget Vogl | 10 |
| 10 | Madelynn Stearns | 10 |
| 13 | Kayla Bestpitch | 9 |
| 14 | Kailey Kline | 10 |
| 20 | Bridget Mazurowski | 10 |
| 21 | Tara Wanat | 10 |
| 25 | Emily Molnar | 10 |
| 32 | Haley Fisher | 10 |
| 34 | Marie Rhodes | 9 |
Coaches - Dave Hall, Bernie Wipperman
Junior Varsity - B
| | | |
| --- | --- | --- |
| No | Name | Yr |
| 5 | Julianna Kladke | 9 |
| 11 | Mckenzie Jensen | 9 |
| 12 | Victoria Florczak | 9 |
| 22 | Sarah Suffoletto | 10 |
| 23 | Sara Bojarski | 9 |
| 24 | Julia Livingston | 9 |
| 35 | Jenna Kladke | 9 |
| 42 | Adalia Romero-Horta | 9 |
| 45 | Caitlynn Nowak | 9 |
| 50 | Mary Owczarczak | 9 |
|   | Brandi Pierog | 9 |
|   | Grace Welch | 9 |
Coach - Peter Florczak