18th State Championship!
Congratulations to the Women's Volleyball Team who won the New York State Catholic High School Volleyball Championship by defeating Mellenberg in the finals 27-25, 20-25, 25-21 and 25-15.
For the tournament, senior Caitlyn Meyer had 52 kills, junior Summer Slade had 31 kills and 39 digs, sophomore Hannah Mulhern had 30 kills, sophomore Caroline Zanghi had eight blocks, junior Jillian Vitale 130 assists, and senior Gina Appenheimer 46 digs.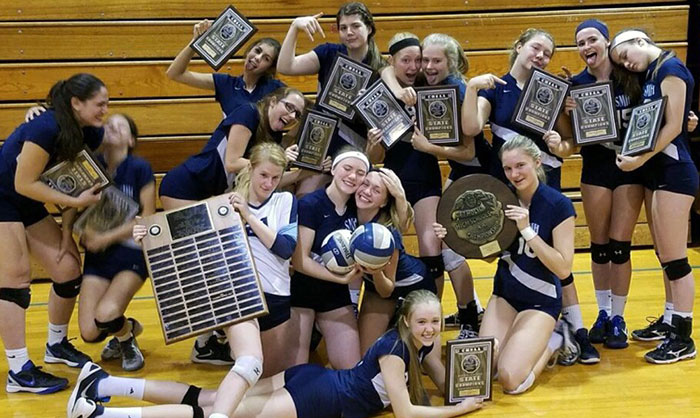 2016 Schedule
| | | | | |
| --- | --- | --- | --- | --- |
| Date | HOME/AWAY | Time | Team | Location |
| Sat, Sept 10 | HOME | 8:30am - ALL DAY | VARSITY TOURNAMENT | St. Mary's High School |
| Mon, Sept 12 | HOME | 4:30/5:30pm | Niagara Catholic | St. Mary's High School |
| Wed, Sept 14 | AWAY | 4:30/5:30pm | Cardinal O'Hara High School | Cardinal O'Hara High School, Gym 1 |
| Fri, Sept 16 | AWAY | 4:30/5:30pm | Mount Mercy Academy | Mount Mercy Academy |
| Mon, Sept 19 | HOME | 4:30/5:30pm | Nichols | St. Mary's High School |
| Tues, Sept 20 | AWAY | 5:00/6:00pm | Orchard Park | Orchard Park High School |
| Wed, Sept 21 | AWAY | 4:30/5:30pm | Sacred Heart Academy | Sacred Heart Academy |
| Sat, Sept 24 | AWAY | ALL DAY | EDEN TOURNAMENT | Eden High School |
| Wed, Sept 27 | AWAY | 5:00/6:00pm | Mercy High School – Rochester | Mercy High School - Rochester |
| Wed, Sept 28 | HOME | 4:30/5:30pm | Mount Saint Mary's Academy | St. Mary's High School |
| Fri, Sept 30-Oct 2 | AWAY | ALL WEEKEND | PHOENIX TOURNAMENT | Phoenix, AZ |
| Tues, Oct 4 | HOME | 4:30/5:30pm | Nardin Academy High School | St. Mary's High School |
| Wed, Oct 5 | HOME | 4:00pm/5:00pm | Mercy High School | St. Mary's High School |
| Sat, Oct 8-9 | AWAY | ALL WEEKEND | GARDEN STATE TOURNAMENT | New Jersey |
| Tues, Oct 11 | AWAY | 4:30pm/5:30pm | Mount Saint Mary's Academy | Mount Saint Mary's Academy |
| Thurs, Oct 13 | HOME | 4:30/5:30pm | Sacred Heart Academy – SENIOR DAY | St. Mary's High School |
| Tues, Oct 18 | AWAY | 4:30/5:30pm | Nardin Academy High School | Villa Maria College |
| Fri, Oct 21-23 | AWAY | ALL DAY | BNCC TOURNAMENT | BNCC |
| Mon, Oct 24 | AWAY | 5:00pm/6:00pm | Lancaster | Lancaster High School |
| Friday, Oct 28 | HOME | Quarterfinals | BYE for top 2 teams |   |
| Wed, Nov 2 | HOME | 6:00/7:30pm | Semifinals |   |
| Fri, Nov 4 | AWAY | 8:00pm | Finals |   |
| Sat, Nov 12 | AWAY |   | States | St. Francis Prep, NYC |
Rosters
Varsity
| | | |
| --- | --- | --- |
| No | Name | Yr |
| 2 | Meadow Slade | 9 |
| 3 | Gina Appenheimer | 12 |
| 4 | Emily Pijacki | 11 |
| 5 | Onalee Duane | 11 |
| 7 | Kathryn Vogl | 12 |
| 8 | Shae Antonicelli | 11 |
| 9 | Kelly Cleversley | 9 |
| 10 | Caitlyn Meyer | 12 |
| 11 | Carolline Zanghi | 10 |
| 12 | Summer Slade | 11 |
| 13 | Victoria Jankowski | 12 |
| 15 | Sarah Hapeman | 11 |
| 17 | Hannah Mulhern | 10 |
| 18 | Kelsie Allen | 11 |
| 19 | Jillian Vitale | 11 |
Junior Varsity
| | | |
| --- | --- | --- |
| No | Name | Yr |
| 1 | Ava Miller | 9 |
| 6 | Madison Nuttle | 9 |
| 14 | Parris Maroney | 9 |
| 16 | Jasmine Brundage | 9 |
| 20 | Hannah Kwasnienski | 9 |
| 21 | Hannah Carrow | 9 |
| 22 | Emily Renkas | 10 |
| 23 | Bridget Vogl | 10 |
| 26 | Leah Hapeman | 9 |
| 27 | Alexis Giardina | 9 |
| 29 | Destiny Severn | 9 |
| 30 | Maggie Kellner | 9 |
| 31 | Giann Grasso | 9 |
| 32 | Riley Malicki | 9 |
| 33 | Taylor Chinski | 9 |
| 34 | Marie Rhodes | 9 |