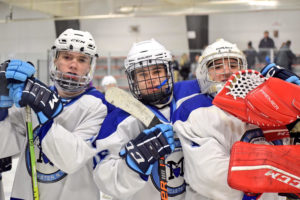 Hockey boosts 2 players on All-Stars Teams
Lucas Prince - 1st Team
Nick Walter - 2nd Team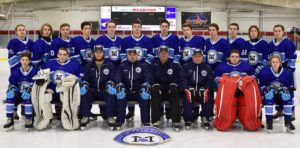 The men's ice hockey team has advanced to the semi-final match vs St. Joe's on 
Saturday, February 18th at 8pm
 at the Cheektowaga Town Ice Rink for a berth to the Super 
Sunday
 event held at the Key Bank Center on 
February 26th
 along with a trip to States down in Long Beach, Long Island, the first weekend of March. 
Lancers are #1!
St. Mary's men's ice hockey stands at 4-2-1 and is tied for first in points in the division.  As far as the season goes, they are ranked #1 for small schools this week by The Buffalo News (for December 13).
St. Mary's defeats Starpoint
The Lancers earned a 4-1 win over Starpoint, with Daniel Pfalzer notching a hat-trick while Lucas Prince had four assists and Brendan Krawczyk added a goal and three assists.
Lancers down Quakers
Congratulations to the St. Mary's Hockey team who opened their season with a 3-2 win in overtime over Orchard Park.
Cameron Ruggiero was solid in net for the Lancers, while Daniel Pfalzer scored twice and Joe Henry added a goal.
 2016-17 Schedule
| | | | |
| --- | --- | --- | --- |
| Date | Start Time | Opponent | Location |
| Fri, Nov 11 | 8:30am | Orchard Park – Scrimmage Carnival | Northtown Center- Olympic |
| Fri, Nov 11 | 11:00am | Depew – Scrimmage Carnival | Northtown Center - Rink 2 |
| Fri, Nov 11 | 1:00pm | Starpoint – Scrimmage Carnival | Northtown Center - Rink 2 |
| Sat, Nov 12 | 9:00pm | Cheektowaga | Cheektowaga Town Ice Rink |
| Wed, Nov 16 | 9:00pm | Starpoint | Cheektowaga Town Ice Rink |
| Mon, Nov 21 | 9:00pm | Orchard Park | Cheektowaga Town Ice Rink |
| Fri, Nov 25 | 12noon | St. Joe's | Cheektowaga Town Ice Rink |
| Sat, Nov 26 | 9:00pm | Canisius | Cheektowaga Town Ice Rink |
| Sat, Dec 3 | 8:00pm | St. Joe's | Lafayette, North Buffalo |
| Sun, Dec 4 | 6:30pm | Lancaster | Harbor Center |
| Wed, Dec 14 | 9:00pm | Starpoint | Cheektowaga Town Ice Rink |
| Fri, Dec 23 | 1:30pm | Jamestown (OP Xmas Tourney) | Leisure Rinks – Rink 2 |
| Fri, Dec 23 | 7:00pm | Canisius | Leisure Rink |
| Mon, Dec 26 | 8:15pm | Depew (OP Xmas Tourney) | Leisure Rinks – Rink 2 |
| Tues, Dec 27 | 12:15pm | Canisius (OP Xmas Tourney) | Leisure Rinks – Rink 1 |
| Wed/Thurs, Dec 28,29 |   | QUARTER/SEMIS/FINALS | OP XMAS TOURNEY |
| Wed, Jan 11 | 9:10pm | Canisius | Cheektowaga Town Ice Rink |
| Sat, Jan 14 | 9:00pm | Cheektowaga | Cheektowaga Town Ice Rink |
| Sun, Jan 15 | 4:00pm | Lancaster | Depew Ice Rink |
| Mon, Jan 16 | 12noon | Orchard Park | Cheektowaga Town Ice Rink |
| Sat, Jan 21 | 7:50pm | Starpoint | Hockey Outlet |
| Sun, Jan. 22 | 9:00pm | Cheektowaga | Cheektowaga Town Ice Rink |
| Wed, Jan 25 | 9:00pm | Lancaster | Cheektowaga Town Ice Rink |
| Sat, Jan 28 | 8:00pm | Orchard Park | Depew Ice Rink |
| Sun, Jan. 29 | 7:10pm | Starpoint | Hockey Outlet |
| Sat, Feb 11 | 8:00pm | St. Joe's | Lafayette, North Buffalo |
| Mon, Feb 13 | 8:00om | Quarterfinals | Cheektowaga Town Ice Rink |
| Sun, Feb 18 | 8:00pm | Semifinals | Cheektowaga Town Ice Rink |
Roster
| | | |
| --- | --- | --- |
| No. | Name | Yr |
| 1 | Cameron Ruggerio | 11 |
| 2 | Michael Walter | 9 |
| 4 | Joe Henry | 10 |
| 5 | Chris Henry | 10 |
| 6 | Nick Walter   "C" | 11 |
| 8 | Brent Casillo | 10 |
| 9 | Paul Henry | 9 |
| 10 | Caleb Mangan | 10 |
| 12 | Daniel Pfalzer | 10 |
| 13 | Alex Bialkowski | 10 |
| 15 | Coner Dunne | 10 |
| 16 | Brendan Krawcyzk | 10 |
| 17 | Sam Dantonio | 9 |
| 18 | Alex Stegmeier | 12 |
| 19 | Zach Micholas | 10 |
| 21 | Lucas Prince   "C" | 11 |
| 22 | Matt Pietrzak | 12 |
| 30 | Kyle Karoleski | 10 |