Get Your St. Mary's Hockey Gear
The SMH Hockey Team's online store is now open!  Click on the link here to get some awesome swag!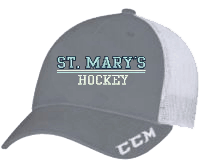 Men's Hockey captures WNY Club Small School Championship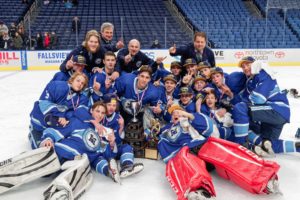 Our men's ice hockey team, after a year hiatus, has taken home the WNY Club Small School Championship this past Sunday where they faced Starpoint in the final.  After a scoreless first period, Lancers took a 2-1 lead at the end of the second with goals by Brendan Krawczyk and Lucas Prince.  Late into the third, defender Alex Bialkowski scored on an empty net, to make the final score, 3-1 Lancers.  Goaltender Kyle Karoleski took home the MVP honors with a fantastic job in net.  The Lancers are headed to Long Beach this weekend with the games added to the bottom of the schedule.  
Hockey boosts 2 players on All-Stars Teams
Lucas Prince - 1st Team
Nick Walter - 2nd Team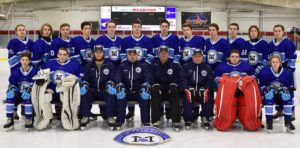 The men's ice hockey team has advanced to the semi-final match vs St. Joe's on 
Saturday, February 18th at 8pm
 at the Cheektowaga Town Ice Rink for a berth to the Super 
Sunday
 event held at the Key Bank Center on 
February 26th
 along with a trip to States down in Long Beach, Long Island, the first weekend of March. 
Lancers are #1!
St. Mary's men's ice hockey stands at 4-2-1 and is tied for first in points in the division.  As far as the season goes, they are ranked #1 for small schools this week by The Buffalo News (for December 13).
St. Mary's defeats Starpoint
The Lancers earned a 4-1 win over Starpoint, with Daniel Pfalzer notching a hat-trick while Lucas Prince had four assists and Brendan Krawczyk added a goal and three assists.
Lancers down Quakers
Congratulations to the St. Mary's Hockey team who opened their season with a 3-2 win in overtime over Orchard Park.
Cameron Ruggiero was solid in net for the Lancers, while Daniel Pfalzer scored twice and Joe Henry added a goal.
 2016-17 Schedule
| | | | |
| --- | --- | --- | --- |
| Date | Start Time | Opponent | Location |
| Fri, Nov 11 | 8:30am | Orchard Park – Scrimmage Carnival | Northtown Center- Olympic |
| Fri, Nov 11 | 11:00am | Depew – Scrimmage Carnival | Northtown Center - Rink 2 |
| Fri, Nov 11 | 1:00pm | Starpoint – Scrimmage Carnival | Northtown Center - Rink 2 |
| Sat, Nov 12 | 9:00pm | Cheektowaga | Cheektowaga Town Ice Rink |
| Wed, Nov 16 | 9:00pm | Starpoint | Cheektowaga Town Ice Rink |
| Mon, Nov 21 | 9:00pm | Orchard Park | Cheektowaga Town Ice Rink |
| Fri, Nov 25 | 12noon | St. Joe's | Cheektowaga Town Ice Rink |
| Sat, Nov 26 | 9:00pm | Canisius | Cheektowaga Town Ice Rink |
| Sat, Dec 3 | 8:00pm | St. Joe's | Lafayette, North Buffalo |
| Sun, Dec 4 | 6:30pm | Lancaster | Harbor Center |
| Wed, Dec 14 | 9:00pm | Starpoint | Cheektowaga Town Ice Rink |
| Fri, Dec 23 | 1:30pm | Jamestown (OP Xmas Tourney) | Leisure Rinks – Rink 2 |
| Fri, Dec 23 | 7:00pm | Canisius | Leisure Rink |
| Mon, Dec 26 | 8:15pm | Depew (OP Xmas Tourney) | Leisure Rinks – Rink 2 |
| Tues, Dec 27 | 12:15pm | Canisius (OP Xmas Tourney) | Leisure Rinks – Rink 1 |
| Wed/Thurs, Dec 28,29 |   | QUARTER/SEMIS/FINALS | OP XMAS TOURNEY |
| Wed, Jan 11 | 9:10pm | Canisius | Cheektowaga Town Ice Rink |
| Sat, Jan 14 | 9:00pm | Cheektowaga | Cheektowaga Town Ice Rink |
| Sun, Jan 15 | 4:00pm | Lancaster | Depew Ice Rink |
| Mon, Jan 16 | 12noon | Orchard Park | Cheektowaga Town Ice Rink |
| Sat, Jan 21 | 7:50pm | Starpoint | Hockey Outlet |
| Sun, Jan. 22 | 9:00pm | Cheektowaga | Cheektowaga Town Ice Rink |
| Wed, Jan 25 | 9:00pm | Lancaster | Cheektowaga Town Ice Rink |
| Sat, Jan 28 | 8:00pm | Orchard Park | Depew Ice Rink |
| Sun, Jan. 29 | 7:10pm | Starpoint | Hockey Outlet |
| Sat, Feb 11 | 8:00pm | St. Joe's | Lafayette, North Buffalo |
| Mon, Feb 13 | 8:00om | Quarterfinals | Cheektowaga Town Ice Rink |
| Sun, Feb 18 | 8:00pm | Semifinals | Cheektowaga Town Ice Rink |
| Fri, Mar 3 | 12:00pm | St. Joe's | Long Beach Arena |
| Sat, Mar 4 | 8:00am | Locust Valley | Long Beach Arena |
| Sat, Mar 4 | 5:30pm | Bellmore Merrick | Long Beach Arena |
| Sun, Mar 5 | 8 or 10:00am | Semifinals | Long Beach Arena |
| Sun, Mar 5 | 5:00pm | Finals | Long Beach Arena |
Roster
| | | |
| --- | --- | --- |
| No. | Name | Yr |
| 1 | Cameron Ruggerio | 11 |
| 2 | Michael Walter | 9 |
| 4 | Joe Henry | 10 |
| 5 | Chris Henry | 10 |
| 6 | Nick Walter   "C" | 11 |
| 8 | Brent Casillo | 10 |
| 9 | Paul Henry | 9 |
| 10 | Caleb Mangan | 10 |
| 12 | Daniel Pfalzer | 10 |
| 13 | Alex Bialkowski | 10 |
| 15 | Coner Dunne | 10 |
| 16 | Brendan Krawcyzk | 10 |
| 17 | Sam Dantonio | 9 |
| 18 | Alex Stegmeier | 12 |
| 19 | Zach Micholas | 10 |
| 21 | Lucas Prince   "C" | 11 |
| 22 | Matt Pietrzak | 12 |
| 30 | Kyle Karoleski | 10 |