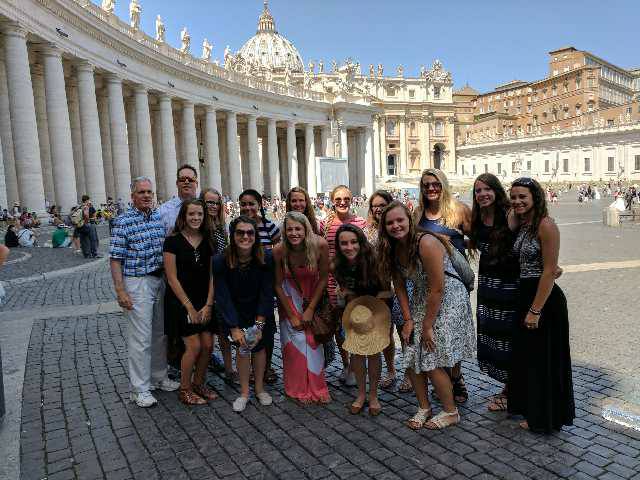 Win the Monsignor Martin League Championship.  Check.  Go to New York City to compete in the state championships.  Check.  Have some members of the team travel to Italy; meet the Pope at the Vatican; see Rome, Venice, and all of the culture and beauty these places offer; and play some exhibition games against actual Italian National Teams.  Check.  The St. Mary's Softball Program has been on quite the ride the past few months.
Some members of the team and their families have just returned from a week abroad in Italy.   Most people in Italy for the first time head right to the beach or hit the closest restaurant, but the St. Mary's student athletes "did" Italy a little differently.  The Lancers participated in a day of community service, attended Mass at Duomo diForli, and topped it all off with an audience with the Pope at the Vatican.  As many as seven in the St. Mary's group were blessed or touched by the Holy Father.  St. Mary's Head of School, Kevin Kelleher, who also went on the trip with the program, was thrilled to see the girls so excited: "To be that close to Pope Francis was truly awe-inspiring.  He radiated goodness and peace," Kelleher said.  "And for our kids to actually be blessed or touched by the Pope, to experience something like that, is something that will stay with them for years to come."
Erin Hufford, a member of St. Mary's Class of 2017 and the Monsignor Martin Softball Player of the Year was one of the members of the team who was close enough to be touched by the Pope: "He is such a gentle, kind man.  To be able to receive that type of blessing from Pope Francis, himself, is a life-changing thing.  It is something I will be telling my grandkids about years from now," Hufford said.
The softball program has been planning this trip for a full year.  Mike Rappl, first-year coaching mentor at St. Mary's and long-time legendary Canisius College softball coach, used to take his Canisius teams to Italy to play games against completely new competition and experience all the country offers.  He saw it fitting to continue the tradition at St. Mary's: "When I started at St. Mary's this year, I quickly realized how great this group of girls is.  I thought that involving them and their families in this type of trip could give them a true once-in-a-lifetime type of experience and really give them a sense of confidence that only an experience like this can provide," he said.  Rappl ʻ71 is a St. Mary's High School alumnus and member of the school's athletic hall of fame.
While in Italy, the team also saw the mountainous Republic of San Marino, took in the beauty and history of Rome, rode gondolas in the canals of Venice, and joined in a dance party in the local Forli Square.  Aside from these new places and experiences, a part of the trip that stuck out for many of the girls was the opportunity to meet Italian softball players.  They may not have been able to speak English, but the teams were still able to communicate through their bond over the game of softball: "We may have not been able to understand a lot of what each other was saying, but we still shared so many laughs and stories about softball," Hufford said. "We shared meals with the Italian teams and exchanged gifts with them.  We even met former Italian Olympic softball players.  It was, hands down, one of the most amazing experiences of my life!"
Coach Rappl echoes Hufford's sentiments about the power sports can have in bringing people together: "I wanted them to see what the game of softball can do for them – where it can take them," he said. "Softball has taken me all over the world, so to organize a trip like this for these girls is my way of giving back to a sport that has given me so much."
Kelleher hopes these student athletes got everything out of this experience they could: "At St. Mary's, we want our students to get real-world experiences to go along with the academics.  What type of real-world experience is better than this – doing the community service, exposure to different languages and cultures, and meeting the Pope?  On this Italian adventure, we wanted them to see all they could, to really soak up this experience, and to open their eyes to things they've never experienced before."