St. Mary's Wins Home Tournament
What a great way to start the season!  The Lancers took the opening tournament of their volleyball season, the one that they in fact hosted, defeating Lancaster in the finals in the third set 19-17.  The Lancers look to build on this momentum as they begin league play.
Here is the link to the story in The Buffalo News.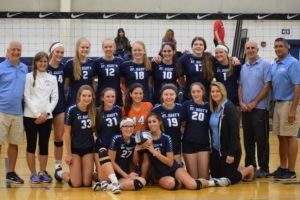 Women's Volleyball Ready to Roll Again
Coming off another Monsignor Martin League title and they're 15th state championship, the Lancers will look to fend off everyone who's gunning for them.
Here's a preview of the women's volleyball season ahead in The Buffalo News, featuring the Lancers.
15th State Championship!
Congratulations to the Women's Volleyball Team who won the New York State Catholic High School Volleyball Championship by defeating Mellenberg in the finals 27-25, 20-25, 25-21 and 25-15.
For the tournament, senior Caitlyn Meyer had 52 kills, junior Summer Slade had 31 kills and 39 digs, sophomore Hannah Mulhern had 30 kills, sophomore Caroline Zanghi had eight blocks, junior Jillian Vitale 130 assists, and senior Gina Appenheimer 46 digs.